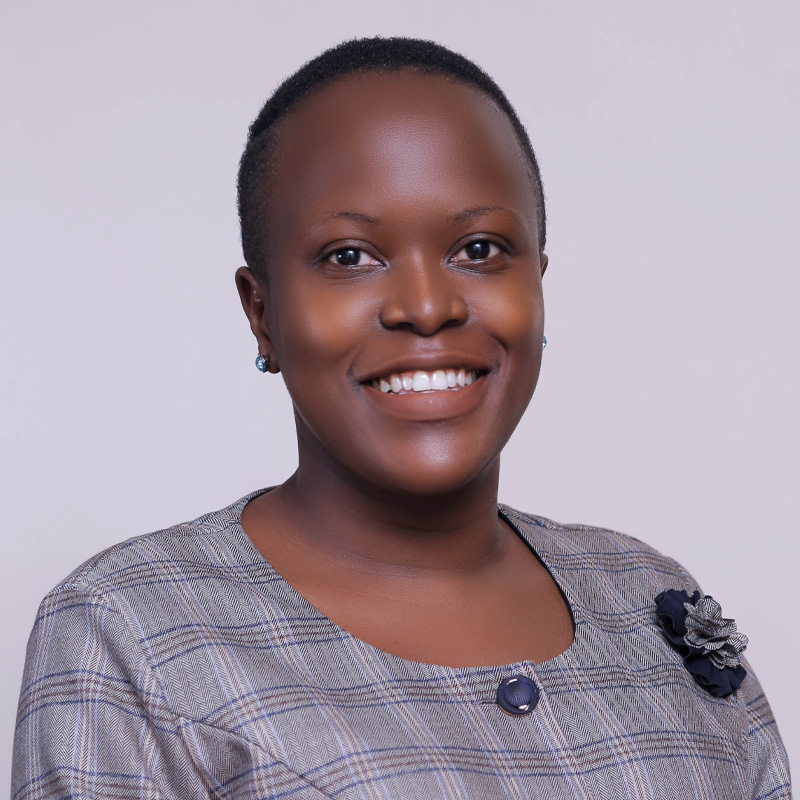 Jeanie is a USA and Uganda trained lawyer. Jeanie is an Associate Partner at Development Law Group and currently in charge of Human Resource and Administration. She is also a Parttime lecturer at Cavendish University in Uganda. Jeanie oversees the group's natural resources, land, environment and employment practices. Jeanie started out her career working as a Legal Research Officer in the Uganda Courts of Judicature. She has also previously worked as a Fellow at the United Nations Environment Programme (UNEP). In 2017, Jeanie was one of the two Pioneer UNEP- Georgetown Law Global Environment and Sustainability Law Fellows
Jeanie has over ten years' experience as a legal practitioner advising both local and international NGOs, Non-Profits, Donors, Charities, International Development Agencies, Social Enterprises, For Good businesses, and education institutions. The advice is inclusive but not limited to regulatory and statutory compliance, employment, intellectual property, immigration, environmental and social governance, business and human rights, corporate governance, investigations, contracting, legal documentation, statutory filing, registration and formation, and course development for universities.
Jeanie regularly consults in the areas of extractives governance, environment law and policy, natural resources, conservation laws, employment sector, legal and policy reforms and public health.
She is admitted to practice law in Uganda and is an active member of the Uganda Law Society (ULS) and the East African Law Society (EALS). She is also a member of the Uganda Association of Women Lawyers (FIDA-U) and the Environmental Law Alliance Network (ELAN).
Education
Master of Laws (LLM) Environment and Energy, Georgetown University, USA- 2018
Diploma in Legal Practice, Law Development Centre, Uganda-2011
Bachelor of Laws (LLB) Makerere University, Uganda – 2010
Work Highlights
Part of the team that developed the proposal for the Montevideo program for the decade (2020-2030)
Part of the team that reviewed the proposed S. 1113 Personal Care and Products Safety Act, US
Advisory and representation of a US based philanthropy on the acquisition and management of an educational institution in Uganda.
Advisory and representation of employers and employees in all manners of employment and labor related issues.
Representation of and advisory to a prominent international development organization on all aspects of legal compliance.
Advisory and Development of Master of Laws (LLM) course units on Oil and Gas Policy, and Natural Resource and Energy Law for a Private University in Uganda
Founding member, Daraja Law Uganda