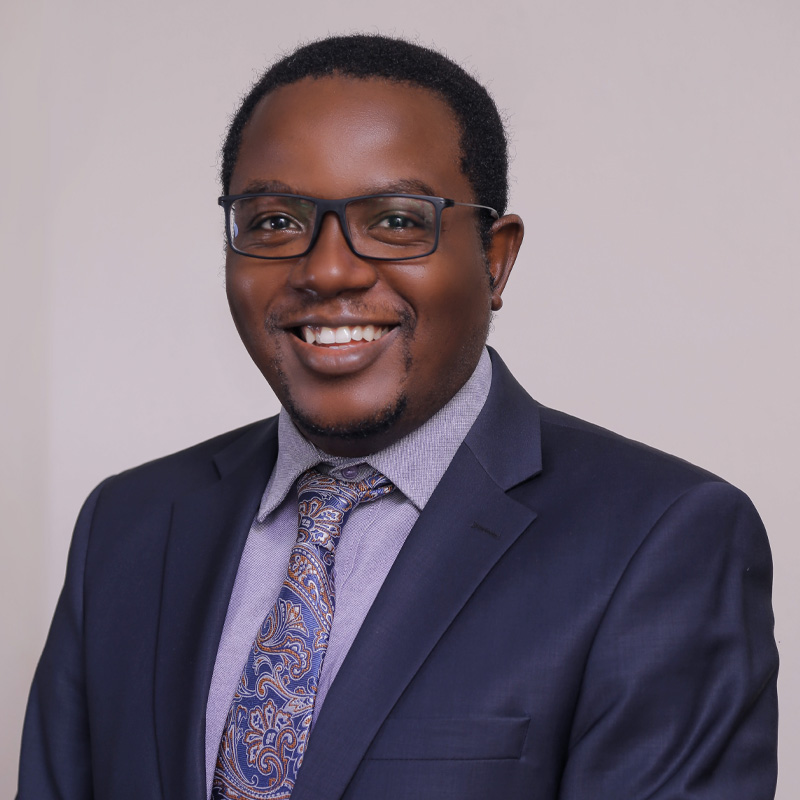 Dan Ngabirano (DR.)
Managing Consulting Partner
Dan is a Ugandan and USA trained lawyer. He is the Founder and Managing Partner of Development Law Group and a Lecturer at the School of Law, Makerere University in Uganda. He oversees the group's overall legal and consulting practice with specialty in the areas of Taxation, Non-Profits and For Good Businesses. Dan started out his career working at a premier human rights and social justice NGO in 2007, before becoming a full-time legal practitioner and consultant later in 2010.
He has a deeper understanding of both the legal and operational challenges, as well as opportunities for non-profits, charitable organizations and for good businesses in Uganda and globally. In this regard, Dan advises several local and international NGOs, Philanthropies, Foundations, Donors, Charities, International Development Agencies, Fiscal Sponsors, Universities & other Educational Institutions, Hospitals and Social Enterprises on all aspects of the law including but not limited to, structure and formation, regulatory & fiscal compliance, taxation and exemptions, labor and employment, immigration, intellectual property, corporate governance, executive compensation, investigations, lobbying and political campaign, anti-corruption, contracting, fundraising and grant making, charitable contributions, restructuring and dissolution.
In addition to this, Dan regularly consults and advises in the areas of development financing, taxation, extractives governance, illicit financial flows, environment, corporate accountability, anti-corruption, pensions and retirement sector, access to information, criminal law reform, financial crime, legal and policy reforms, rule of law and democratic governance.
He is an active member of the Uganda Law Society (ULS) and the East African Law Society (EALS). Dan is also a member of The Access Initiative (TAI), the Access to Information Committee of the African Network of Constitutional Lawyers (ANCL) and the Environmental Law Alliance Network (ELAN). In 2016, Dan was one of the nine eminent legal scholars recognized by the Supreme Court of Uganda as being one of the "most widely researched" and "highly experienced" in rule of law, human rights, good governance, and constitutionalism. Most recently in July 2021, he was invited by the United Nations Office of the Special Adviser on Africa (UN-OSAA) to join its newly created Africa Knowledge Network.
Education
Doctor of Juridical Science Degree (SJD) & Fulbright Scholar, University of Iowa, USA- 2019
Master of Laws (LLM) Harvard University, USA- 2011
Bachelor of Laws (LLB) Makerere University, Uganda – 2010 (Finished Top of his class)
Diploma in Legal Practice, Law Development Centre – 2011
Work Highlights
Legal advisory, routine compliance and representation of a major grants' management entity with operations across Africa
Advised a major US based Foundation on its grant making activities in the East African Region (Uganda, Kenya, and Tanzania)
Advised on structure and formation of a Ugandan Civil Liberties Organization along the model of the American Civil Liberties Union (ACLU)
Advisory and representation of a prominent US based justice and international human rights organisation on its grant making activities in Uganda.
Formation and securing tax exempt status for a US based philanthropy in respect to its Ugandan operations. 
Advisory and representation of a US based philanthropy on the acquisition and management of an educational institution in Uganda.
 Advisory and legal representation of several US 501 (c) (3) Non- profits in East Africa.
Advised and represented a social enterprise in the acquisition, staffing and compliance of a law school based at one of the private universities in Uganda. 
Routine compliance advisory, tax and legal audits for several local and international non-profits and social enterprises
Regular representation of several Ugandan and international NGOs before regulatory bodies such as the Uganda NGO Bureau, Uganda Revenue Authority (URA), Financial Intelligence Authority (FIA), Uganda Registration Services Bureau (URSB), Directorate of Immigration and the National Social Security Fund (NSSF)
Advisory to a major USAID Funded project in respect to immigration, taxation, labor, and employment of local and expatriate staff in Uganda.
Advisory and setup of a regional Trust Fund to support the work of Human Rights Defenders in Africa.
Representation of and advisory to a prominent international development organization on all aspects of legal compliance, labor, and employment.
Advisory to a plastics recycling startup on all aspects of formation, compliance and taxation
Advise a fintech startup on all aspects of formation, compliance, taxation and contracting.
Founding Board Member, Chapter Four Uganda.